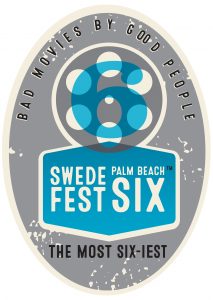 swede fest™ palm beach 6 (the sixiest!) Happening March 24 at the Kelsey Theater
Palm Beach Film Society Hosts Hilarious Amateur 
Film Festival in Lake Park
Mary Poppins
Back to the Future
The Cube
Dirty Dancing
The Shining
The Blair Witch Project
Finding Neemo
Hitchhiker's Guide to the Galaxy
Dr. Strange
Titanic
Romeo & Juliet
The 2018 Oscars
Every Space Movie Ever
Indiana Jones and the Last Crusade
Rogue One
Frozen
Beauty and the Beast
Ghostbusters
Captain America: Civil War
Sleepemon (Sleeping Beauty and Pokemon combined)
Annabelle
Moana
BUT WHAT'S A SWEDE?

Indie film festivals have a rich history of showcasing amazing undiscovered talent, where Hollywood insiders troll for the next big thing, where A-list stars promote the small, labor-of-love projects they do between blockbusters. This is not the case with the annual swede fest™ palm beach. Instead, a "swede" is a 3-minute no-budget, laughably bad remake of a hit Hollywood film. The term comes from the 2008 comedy, "Be Kind Rewind," which started an underground sweding craze and resulted in the very first swede fest™ in Fresno. Next came swede fest™ tampa bay, and swede fest™ palm beach ushers in its 6th year on March 24, 2018 from 7 pm to 9 pm at the Kelsey Theater in Lake Park.
"sweders" will walk the "where the heck is the red carpet?" dressed in their best 'Hollywood' garb (whatever that means to them) before heading into the theater. The hit improv group Cheese & Crackers will emcee the night with quick breaks between groups of films to allow audience members to decide the best of the worst films. Following the "awards ceremony" everyone is invited next door to the Brewhouse Gallery for the after party.

COST:
 Tickets to the event are $12 in advance or $15 that evening and may be purchased at swedefestpalmbeach.com.


WHEN:
 Saturday, March 24 at 7:00 PM
WHERE:
 The Kelsey Theater – 
700 Park Avenue, Lake Park


WHO:
 The Palm Beach Film Society, a non-profit dedicated to promoting local film makers and film making in Palm Beach County is the presenting organization in partnership with the Palm Beach County Film & Television Commission and the Kelsey Theater and Brewhouse Gallery.
SOCIAL MEDIA:
Web: http://www.swedefestpalmbeach.com
Facebook: http://www.facebook.com/swedefestpalmbeach
Twitter: http://www.twitter.com/swedefestpb


For general information:
CALL Elizabeth Dashiell, 561.543.8276
EMAIL info@swedefestpalmbeach.com