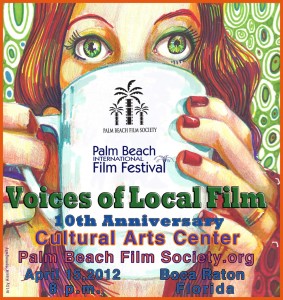 The 2012 Voices of Local Film Poster By Alexia Hemingway
The Palm Beach Film Society is pleased to announced the movies for the 2012 Voices of Local Film at the Palm Beach International Film Festival. The event will take place during the PBIFF on April 15, 2012, 8 PM, at the Cultural Arts Center in Boca Raton (201 Plaza Real, Boca Raton, FL 33432). You can purchase tickets here. The films, in no particular order:
The Single Girl's Guide to Travel in Paris, directed by Dawn Dubriel. Join host Dawn Dubriel on a Tour de Paris, the city of love. Take a riverboat cruise down the Seine river, smell the frankincense and see the magical stained windows in the Gothic Notre Dame cathedral. Climb to the top of the Eiffel Tower then head on the metro to Montemarte to bask in Paris' local artists' ambiance.
Let Yourself Be Heard, directed by Talina Adamo. Plot: A young couple worries how their other half will react if they passed gas in front of each other. To find out if it true love, they must let themselves be heard.
Changing Seasons, song by Lucas Feigenbaum, directed by Bruce Feigenbaum. Plot: Music video highlighting the beauty of South Florida.
Opportunist, directed by Phillip Wong-Kuon. Plot: An inexperienced thief, Wayne, breaks into a Boca Raton townhouse and is caught by an older man, Marvin, the owner of the home.
Crazy House, directed by Robert Goodrich. Plot: Three deadbeats, struggling to survive a miserable Minneaoplis winter and the faceless oppression of The Man, consider selling their vital organs for a taste of financial freedom and the promise of unlimited painkillers.